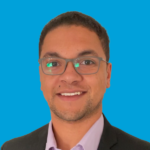 Earl Angell, Key OEM Accounts manager
As the Key OEM Accounts manager for connected vehicles at Teletrac Navman Automotive, it is my job to manage the various Ecall, Bcall, Stolen Vehicle Services and Remote services contracts we win, ensure they run smoothly and that any issues are resolved quickly and efficiently.  On Friday 29th April, I attended the Fully charged live show at Farnborough, this was my experience.
The Fully Charged Live show ran from Friday 29th of April to Sunday 1st of May and showcased some of the amazing new electric vehicles and their associated peripherals and technologies emerging in the market.
Because I was only going for one day and as the show was based at Farnborough airport, I set off from Bristol at 0730, hoping to make it for when it opened at 10.  On arrival to the car park – a field owned by the MOD, repurposed for this event, with a couple of concerning signs and fenced off areas of grass – I was amazed at the sheer number of privately owned electric cars waiting to park, but was disappointed by the queue of at least 300 people waiting for one of two shuttle buses to the show.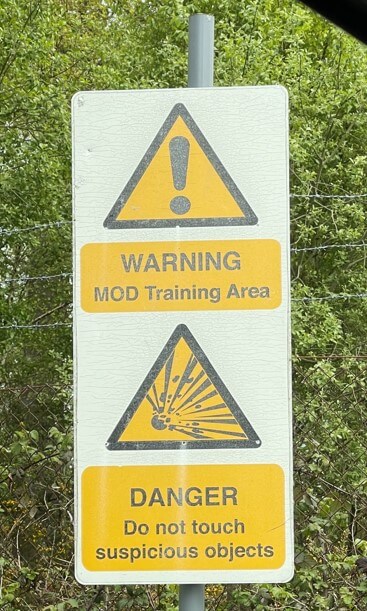 "Having driven for the last 2.5 hours however, I was keen to get my steps in for the day and along with around another 50 people who also couldn't bear the thought of queuing, we embarked on the journey to the event."

Had we known it was a 45 minute walk, we would have waited for the shuttle! 
On entering, the event had a festival feel.  Sure, there were business professionals like me presumably there for work related reasons, but we were in the minority. Most people it seemed were consumers, there to pick out their next vehicles, or entire families, just there for a fun day out.  
As I walked in, the first stand I came across was Ford's.  Being the account manager for the Ford Stolen vehicle Services program which launched this year in the UK and Europe, I immediately made a beeline to it and was impressed by how knowledgeable the events staff were regarding the Ford Mustang Mach-e and the Ford Kuga PHEV, and the Sync4 system that includes stolen vehicle services.  I was especially impressed with the Ford Mustang Mach-e and on returning from my test drive with Jo from the events team, I decided that I needed one!  Unfortunately for me however and as is the case with all manufacturers at the moment, the lead time is up to 12 months! So I won't be seeing my new Mach-e any time soon!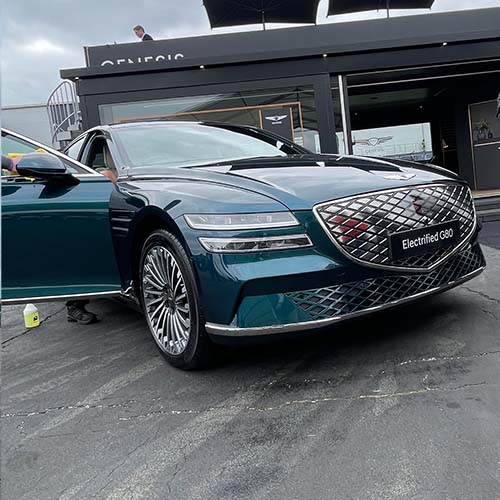 In the main outdoor spaces, there were the usual well-known brands that we see daily, such as Kia, Hyundai, MG, VW, Fiat etc. but towards the other end of the ground were some extraordinarily interesting OEMs that certainly aren't commonplace in the UK at the moment.  Genesis, Hyundai's luxury brand made an appearance, showcasing its G80 Luxury SUV with its geometric accents and imposing stature, and walking around further I came across offerings from brands like Morris commercial, Emotive, Arrival and Volta.
Having finished ogling the amazing array of vehicles, having my boy-racer fun in the Mach-e and filling up on Mexican loaded fries with slow cooked beef brisket for lunch, I began to speak to some of the representatives from the OEMs about remote services.  It became clear when talking to them that they see connected technology as fundamental to the smooth working of their electric vehicles, be that suggesting charging points along your journeys, offering concierge systems, remote diagnostics integrated within the Bcall function, or the life and money saving safety and security features such as eCall and Stolen vehicle Services.  I was pleased to see that the brands take connected services so seriously and I made several contacts with whom I will be discussing how in the future Teletrac Navman Automotive's Safety, Security and convenience connected systems can help them.

Overall I thought the fully charged live show was a great event – I learned lots of new information and was exposed to brilliant new brands and technologies that are sure to make waves throughout the global automotive industry.  Whilst I went there for work purposes it looks to also be a terrific family day out.  I'll certainly be keeping an eye out for Fully charged live 2023.